Mobile barcode scanning
simplifies your inventory
management.
Make inventory management fast, reliable, and easy
with Advanced Inventory's mobile barcode scanning system.1
Most Modest Inc.
Enterprise Customer

Ditch the paperwork with barcode scanning software.
Reduce errors
Incorrect unit counts, mismatched SKUs, and human errors can all be reduced by doing your receiving and picking with mobile barcode scanning.2
Speed up the picking process
With mobile barcode scanning, managers can send orders electronically to pickers on the floor.1
Get real-time data
With reliable, real-time inventory data,1 you can make better business decisions.
See the barcode scanner software in action.
When an order comes in, the manager can choose which warehouse to fulfill it.
The manager assigns the order to a picker, who receives it wirelessly on a mobile device.
As the picker works, they can see various details about the products, including name, location, and quantity.
The picker confirms the items as they are gathered.
Once the picker is finished, QuickBooks syncs the order, marking it as picked and shipped, and your inventory is updated automatically.
QuickBooks creates a Sales Order that reflects the recent order and you get real-time data in QuickBooks so you know when to reorder.
Barcode scanning helps reduce errors and automate your business.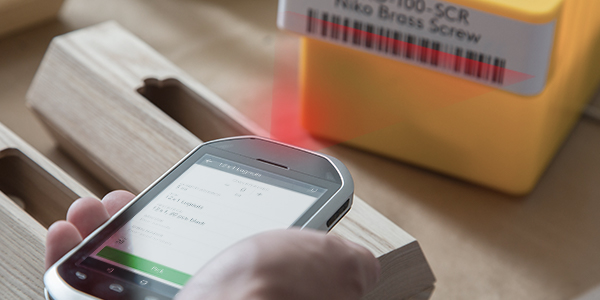 Incorrect unit counts, mismatched SKUs and improper cutoffs are just a few common inventory errors that cost companies millions in profits every year. Enterprise's barcode inventory management helps solve this — and now it's mobile!

Advanced Inventory lets you incorporate pre-existing barcodes or it can generate new ones for you. Plus, it's completely integrated with QuickBooks and automatically fills fields with the correct information when barcodes are scanned.1
New in 18.0! Mobile barcode scanning.
Imagine how much time you'd save on order fulfillment and inventory tracking if you could take it mobile.
Enterprise's Advanced Inventory now offers mobile barcode scanning that lets you send an order from any location directly to anywhere on a warehouse floor.
With a mobile device you can empower both your sales associates and your pickers to get their jobs done faster and more efficiently.
You can also streamline receiving your inventory by scanning items with a Bluetooth scanner and your Android phone, or with a handheld barcode scanner.2

For more information about the QuickBooks Desktop Warehouse app for your mobile scanning device, see our help page.
Terms, conditions, pricing, service and support options are subject to change without notice.
Scanners sold separately. Only available in Advanced Inventory module, which is available in QuickBooks Desktop Enterprise Platinum.

Only available in Advanced Inventory module, which is available in the latest release of QuickBooks Desktop Enterprise Platinum.