"...the integrated inventory module in QuickBooks Desktop Enterprise made the decision a no-brainer. We needed information that connected our inventory data with financial transactions to be more efficient."

Siva Shanmugam | Director of Finance, Xenex | San Antonio, TX

"Prior to Advanced Inventory, I had to use a lot of work around methods to keep track of my inventory...that was very time consuming. I had to manually enter items...and now I don't have to do that. It saves time and money."

Rick Jones | Owner, Acoustic Image | Raleigh, NC

"We've saved several hours a week on managing inventory alone. It used to take us four days to do our orders. Now we're doing it in less time. We also don't have to keep as much safety margins in our inventory."1

Luis Guardiola | Vice President of Supply Chain, Xenex | San Antionio, TX

"For a company like us that is constantly "juggling" inventory between both facilities to be able to service each customer's orders, Advanced Inventory has been fabulous."

Tim Foster | Vice President, Red Smith Foods, Inc. | Davie, FL

"...we're getting more accurate information on our on-hand inventory, our inventory needs, our product locations, our exact costs, and our sales."

Siva Shanmugam | Director of Finance, Xenex | San Antonio, TX

"The building and kitting capabilities in QBE are essential to our business."

Aaron Langhoff | Vice President of Purchasing & Product De­velopment, R&R Solar Supply | Honolulu, HI
The Smart Choice for Your
Manufacturing & Wholesale Business.
Save time and work smarter with accounting software designed
for manufacturing and wholesale businesses.
Integrated inventory management.
No more complicated workarounds. The Advanced
Inventory functionality2 lets you seamlessly manage
inventory right within QuickBooks. Supports barcode scanning3, serial or lot number tracking, and warehouse inventory management.
Superior data crunching.
Are your item, customer, and vendor lists growing?
QuickBooks Desktop Enterprise handles supersized data files with ease. And, you can work in two company files at once.4
Run your most critical reports with ease.
Advanced Reporting8 puts the information you need at your
fingertips. Find the right report fast with reports bundled for
the manufacturing/wholesale industry. Save time with
templates auto-filled with your company information. Plus
find answers to your reporting questions with our robust
help portal.
Expanded user access.
Increase productivity and accomplish essential tasks faster
with simultaneous access for between 1 and 30 users.5 Our
Hosting Service6 allows users to access your files from
anywhere, any time.7
Grow Your Business with EDI
To do business with major retailers, you will need Electronic
Data Interchange (EDI). Automate your sales/purchase order
processing, reduce errors and streamline your order to cash
cycle. Available at no charge inside your QuickBooks
Desktop Enterprise software!9
Technical expertise not required.
You don't have to be an accounting software expert to make QuickBooks Desktop Enterprise run smoothly for you. Your subscription to QuickBooks Desktop Enterprise includes access to U.S.-based product experts to help you all along the way.10
Special Features for Manufacturing & Wholesale
Manufacturing and wholesale accounting software continuously track
goods coming, going, and changing. Accounting software and tools help
keep it all straight, and for more complex inventory needs, take a look at
our Advanced Inventory functionality.2
New! Auto-Copy Ship-To Address from Service Order to Purchase Order
Avoid manually inputting addresses from your Service Order into your Purchase Order with the new auto-copy ship-to address function. When creating a purchase order from a sales order, simply check a box to copy over the ship-to address. QuickBooks Desktop Enterprise will remember your preference, so the auto-copy box will be checked for you next time automatically.
New! Single-Label Printing Capabilities
Printing just one label is now fast, easy, and efficient. Our new single-label printing capabilities give you the freedom to print barcodes, address labels, and more on single, continuous feed label printers, such as Zebra.
Improved! Assembly Shortage Report
Know what you need when you need it with our updated Individual Assembly Shortage report. We've enhanced it to include more helpful information, like quantity on Sales Order, quantity for Assemblies, quantity Available, quantity on Purchase Order, and Next Delivery Date.
Disallow Negative Inventory Quantities
Maintain control of your average cost by preventing it from resetting when you have inventory on hand.
Total Any Column on Sales and Purchases
Reduce tedious work by totaling quantities and custom fields, like weight, on sales forms. Verify you're ordering the correct amount without having to manually total quantities on purchase orders.
Improved Assemblies Management
Build all subassemblies automatically with a final build, instead of building each subassembly individually. See where-used information for assembly components and subassemblies and avoid opening every assembly to see where the component is used.
Advanced Pricing12
Create thousands of sophisticated price rules with the Advanced Pricing Add-On. Additional purchase required.
Customized Chart of Accounts
Get immediate access to important information like your work in progress, overages and shortages, labor, materials, and more.
Available to Promise
Get all your important inventory data on one screen. See details on which customers have ordered a product, or view open purchase orders placed with vendors.
Sales Order Fulfillment
See all open sales orders on one screen. Sort by date, by shippable dollar amount, or by customer. Allow partial or complete order shipment. Batch print pick lists, packing slips, or invoices for the orders you select.
Create Sales Orders
Easily track the status of an order and see whether it's been shipped. View all open sales orders by customer or item. Instantly turn sales orders into work orders, purchase orders, pick lists, or packing slips.
Backorder Tracking
On sales orders and invoices, the Backordered column shows exactly which items still need to be shipped. On purchase orders, the Backordered column shows what's still expected from vendors.
Customize Price Levels
Define different prices for different types of customers, such as high-volume, wholesale, retail, or preferred customers. You can create up to 750 customized price levels for your item using a fixed percentage or dollar amount.
Multiple Customer Shipping Addresses
You can store an unlimited number of shipping addresses per customer; the addresses are selectable from a dropdown list.
Electronic Data Interchange (EDI)
Automate your sales and purchase order processing with Electronic Data Interchange (EDI).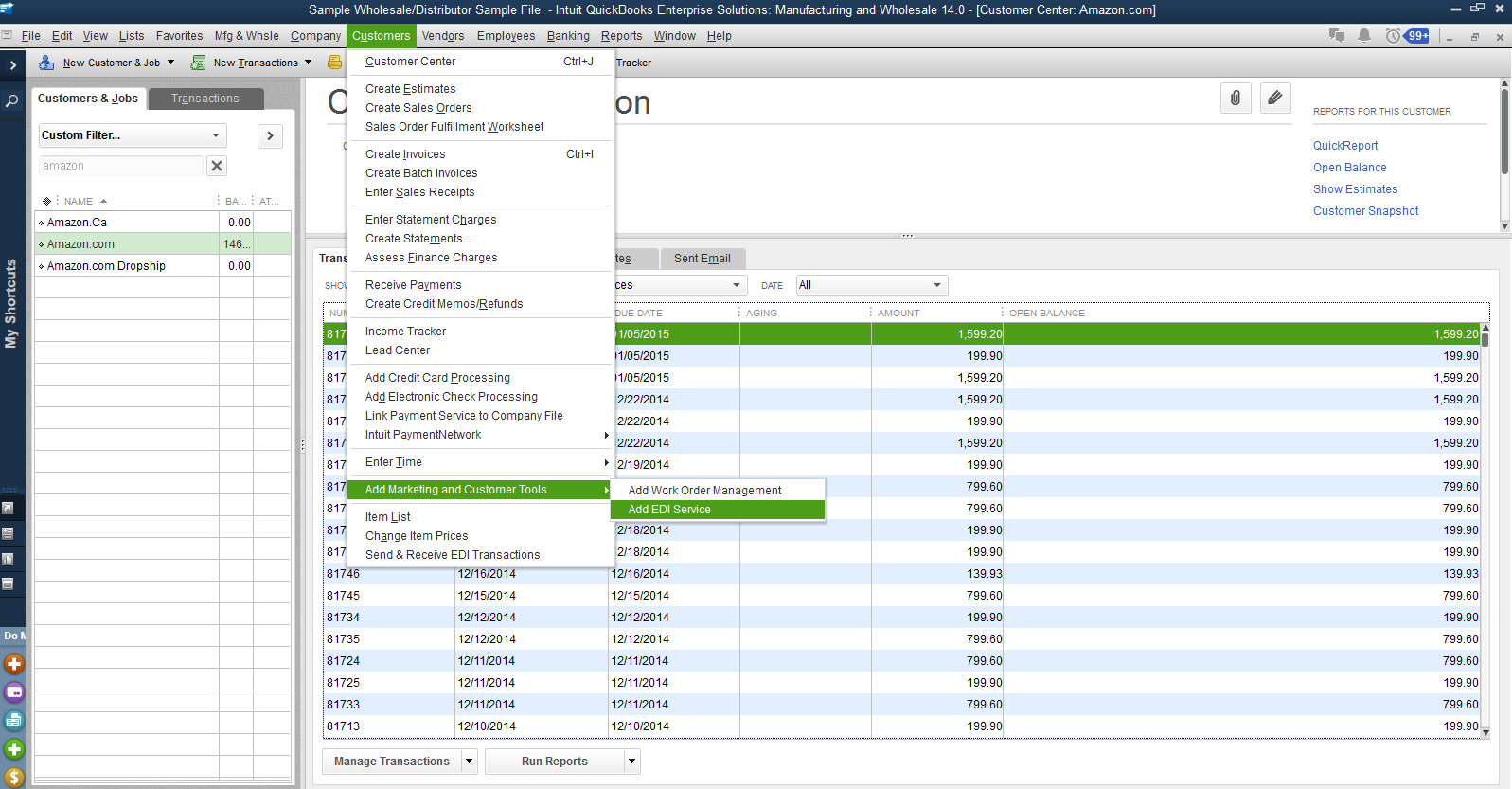 Key Reports
The Manufacturing & Wholesale functionality of QuickBooks Desktop Enterprise
includes critical reports made with your business in mind, so you can
see which products, customers, and jobs are profitable and which aren't.2
Sales by Rep Detail
See how your sales reps are performing.
Open Sales Orders
Track open sales orders by customer or by item.
Open Purchase Orders
See purchase orders that have been partially fulfilled or haven't yet been fulfilled.
Physical Inventory Worksheet
Use the Physical Inventory Worksheet to check your physical inventory against your QuickBooks records.
Sales Return Transaction Detail Report
See line by line detail of your sales returns.
Profitability by Product Report
See which products are most profitable.
Inventory Reorder Report by Vendor
Determine when inventory needs to be reordered and from which vendors.
Real Business. Real Stories.
Download this case study and learn how QuickBooks Desktop Enterprise and Advanced Inventory has helped other manufacturer/wholesale businesses flourish.
Xenex Healthcare Services (PDF)
Xenex Healthcare Services was relying on QuickBooks Online to
manage their financials and tracked inventory in a separate application. By moving to QuickBooks Desktop Enterprise and Advanced Inventory, Xenex Healthcare Services improved their inventory management efficiencies so much that they were able to grow revenue by 600% without adding new supply chain/financial staff.